Beta Renewables has invested in the development of the PROESA® process applied in BioLYFE
Beta Renewables has invested over $200 million (€140M) in the development of the PROESA® process, for converting a range of non-food cellulosic biomass, such as Arundo donax, into cost-effective sugars for the production of bio-based products. PROESA™ combines an enzymatic pre-treatment process with fermentation. PROESA's parameters are adjustable, providing flexibility in the desired output of C5 sugars, C6s and lignin to be used in the production of ethanol or chemicals. PROESA provides better overall performance and economics than other hydrolysis or gasification technologies the company is aware of. Over 1,000 plants are projected to be needed by 2025 to meet global demand for these products.
In addition, multiple companies are interested in using PROESA technology in the production of advanced biofuels and bio-based chemicals. Beta Renewables has announced the following to date:
Advanced biofuels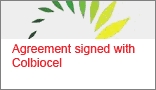 Colbiocel: In September 2011, Colbiocel announced their intent to use PROESA for a cellulosic ethanol plant in Columbia with a capacity of 85,000 tons per year (kTa). The plant will use sugarcane bagasse as feedstock. Colbiocel Columbia focuses on the development of processes for the production of renewable energy from agricultural waste to reduce the dependence on fossil fuels. The project will promote technological development as well as bring significant economic and social benefits.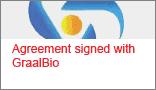 GraalBio: In October 2011, GraalBio announced their intent to use PROESA for the first industrial-scale cellulosic ethanol plant in Brazil.
GraalBio Investimentos S.A., is an integrated second generation biofuels and biocehmicals company wholly-owned by the Brazilian entrepreneurial group Graal Investimentos S.A.
GraalBio plans to became the preferred partner to implement promising technologies with Bazilian biomass by investing in the development of industrial plants, new crops, research and development, patents, licenses and know how as well as promoting strategic alliances with companies that have been developing biomass conversion technology worldwide.
Chemtex and GraalBio are also in discussion regarding a broader cooperation to develop and produce biofuels and biochemical's in Brazil.
Bio-based chemicals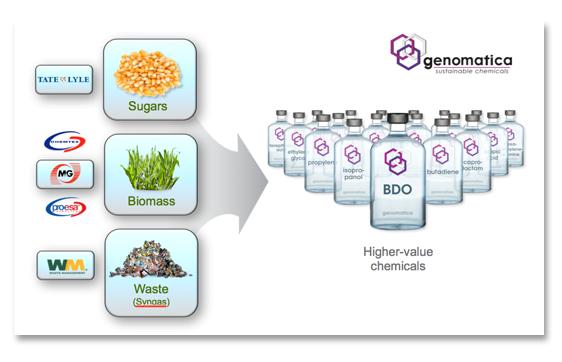 Genomatica: In January 2012, Genomatica announced the acquisition of exclusive worldwide rights to use PROESA for the production of the intermediate chemical butanediol (BDO) from biomass. Integrating PROESA with Genomatica's direct biological process will result in a complete, proprietary process for the second-generation manufacturing of BDO using non-food, cellulosic biomass as feedstock.
Genomatica is a technology leader for the chemical industry. It delivers new, transformative manufacturing processes that enable its partners to produce intermediate and basic chemicals from renewable feedstocks. Genomatica's processes are designed to achieve better economics with enhanced sustainability and a smaller environmental footprint than conventional, petroleum-based manufacturing processes.

Codexis: In July 2011, Codexis announced a collaboration to develop and produce second-generation detergent alcohols from cellulosic biomass for use in the household products market. Chemtex will design and build Codexis production facilities. Detergent alcohols - a $6 billion worldwide market - are surfactants which stabilize mixtures of oil and water. They are widely used in laundry detergents, shampoos and other consumer products. Detergent alcohols today are made from non-sustainable palm kernel and petroleum sources.
Codexis is a clean technology company developing optimized biocatalysts that make industrial processes faster, cleaner and more efficient. Codexis' technology is commercialized with leading global pharmaceutical companies and in development of advanced biofuels as well as carbon capture with Shell. Other potential markets include chemicals and water treatment.

Amyris: In June 2010, Amyris announced to work on the integration of PROESA with their technology platform to produce renewable fuels and chemicals from biomass.
Amyris has developed advanced microbial engineering and screening technologies that modify the way microorganisms process sugars. Amyris is using this industrial synthetic biology platform to design microbes, primarily yeast, and use them as living factories in established fermentation processes to convert plant-sourced sugars into renewable chemical and transportation fuel products.

Please visit Beta Renewables website to find more information on PROESA technology and the first demo plant supported by the European Commission in the framework of the BIOLYFE project .In addition, we invite you to view the presentation of CEO held at the National Ethanol Conference in February 2012.