Feedstock selection
The BIOLYFE project aims at demonstrating the production of lignocellulosic ethanol from dedicated energy crops at industrial scale. In order to achieve both economic and environmental feasibility of the overall process, project activities include the evaluation of potential feedstock crops and agricultural residues, as well as the selection of the most suitable feedstock by the BIOLYFE partner Agriconsulting. Considering the framework conditions found in the target region, as well as general agronomic, logistic, environmental and economic aspects, the feedstock for the BIOLYFE process was selected among the following candidate species: Fibre Sorghum (Sorghum sp. hybrids with high cellulose contents), Miscanthus grass (Miscanthus x giganteus hybrid), Giant Reed (Arundo donax), and Switchgrass (Panicum virgatum).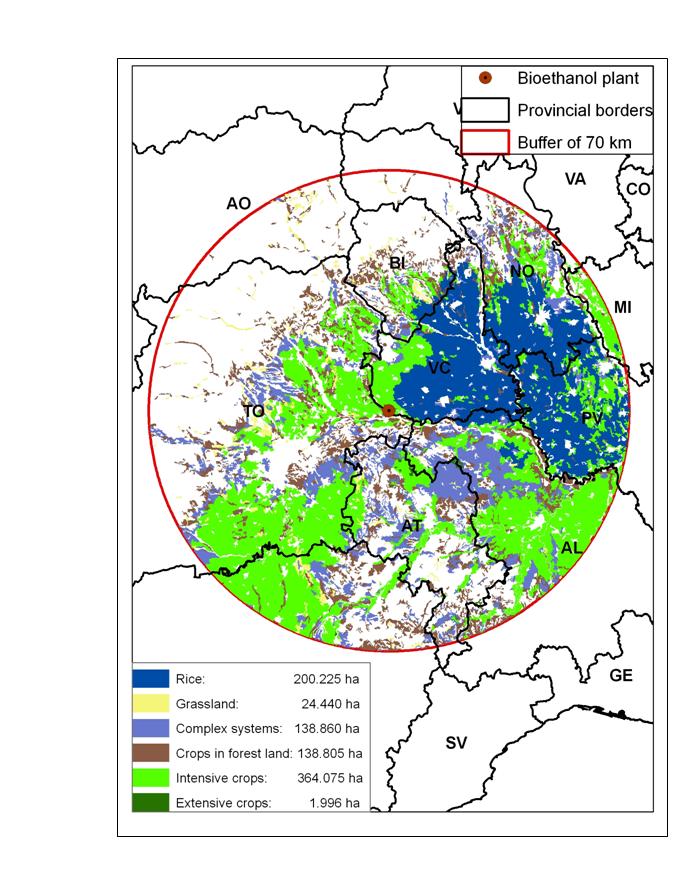 The BIOLYFE plant for the production of lignocellulosic ethanol will be located in Crescentino in Northern Italy, between Turin and Milan. It was decided to source the necessary feedstock (around 170.000 tons of dry biomass per year) from a radius of 70 km around the production plant. The area is characterised by the production of intensive crops (grains such as wheat, barley and maize) and rice. While grain cultivation in the area suffers from very low gross profit margins, rice is, at the moment, heavily subsidized and provides good profits to farmers. However, rice subsidies are under examination and might be reduced in the near future. Therefore, diversification with other crops (i.e. energy crops for ethanol production) is an attractive option for grain producers in the region and might also become an option for rice producing farmers.
Considering these factors, the chosen area and radius are sufficient to produce the biomass needed for lignocellulosic ethanol production in the BIOLYFE plant. Even if only grain cultivation area is considered and if only a modest productivity of 20 tons of dry biomass per hectare and year is taken into account (30 tons per hectare are expected), it would be sufficient to use less than 2.5 % of the grain cultivation area for energy crop production.
A first evaluation of selected crops identified specific disadvantages of two species: Switchgrass shows the lowest yields of the considered crops and its potential to infest conventional crops in surrounding areas makes it unattractive for farmers in the region. Miscanthus shows very good productivities but its sensitivity against temperatures below −3°C constitutes a high risk under the climatic circumstances in the target area. For these reasons, and also considering preliminary experiments with the utilisation of these crops, Switchgrass and Miscanthus were not considered in the further evaluation.
As a next step, production costs for the remaining crops, Sorghum and Arundo, were estimated. Sorghum, as an annual crop, needs more soil preparation, a higher chemical and energy input and also harvesting costs are higher as compared to Arundo. In addition, harvesting and storage for Sorghum would need further optimisation. Sorghum production costs per hectare and year are estimated to be above EUR 1000 and double that of Arundo. Furthermore, Sorghum only delivers high productivity under optimum weather conditions and is highly dependent on factors such as sufficient water availability.
As a result of this evaluation, Arundo represents the first choice feedstock crop for the BIOLYFE project. Besides low production costs, Arundo can be harvested all year long which further simplifies biomass logistics. However, factors such as yield and moisture content will vary over the year which has to be considered in planning ethanol production. In order to be an attractive option for farmers in the region, Arundo should provide a gross profit margin of EUR 300-400 per hectare which could result in a price per ton of dry biomass (unprocessed) between EUR 25 and 30 at the ethanol plant.
In summary, the BIOLYFE project will use Arundo donax as the main feedstock for the production of lignocellulosic ethanol, while Sorghum (and also local straw residues from grain cultivation) can be used to diversify feedstock supply.