BIOLYFE Newsletter - Issue 11

March 2013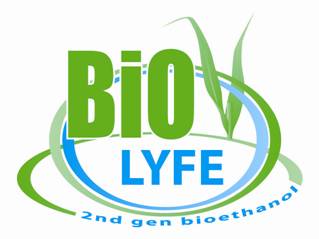 The BIOLYFE project
The BIOLYFE project aims at improving critical steps of the second generation bioethanol production process and at demonstrating the whole supply chain, from feedstock sourcing via fuel production to product utilisation. The main result will be the construction of an efficient second generation industrial demonstration unit with an annual output of about 40,000 tons of lignocellulosic bioethanol.
Please see www.biolyfe.eu for more information.
BIOLYFE is co-funded by the European Commission in the 7th Framework Programme (Project No. FP7-239204). Project duration is four years and activities started in January 2010.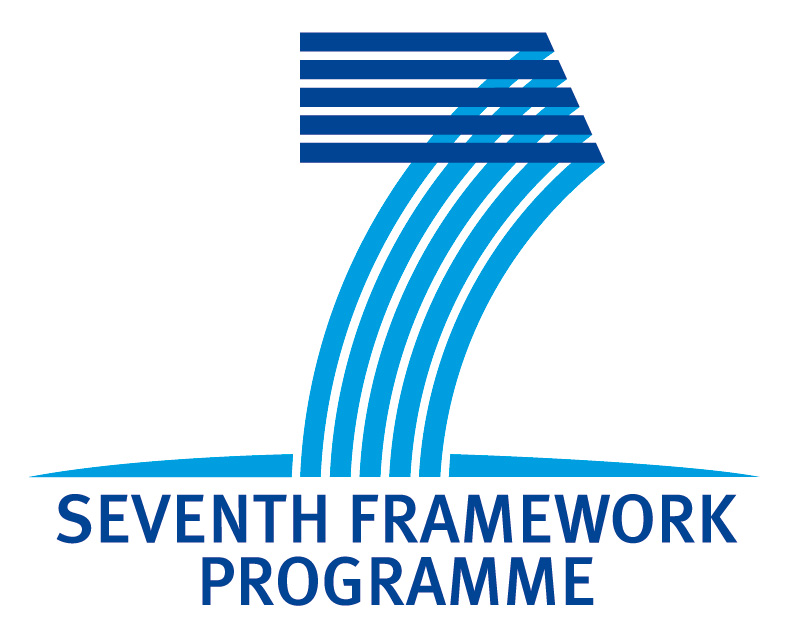 In this Newsletter
In this newsletter issue we would like to announce SWOT Workshop organized by BIOLYFE project. In addition, you will find news on the new initiative aiming to support the deployment of second generation biofuels. Finally, you will find an update on the upcoming events related to biofuels.
Industry leaders launched an initiative to support second generation biofuels
The Chief Executive Officers of seven leading European biofuel producers and European airlines launched in Brussels a new industry-led initiative to speed up the deployment of advanced sustainable biofuels in Europe. The initiative 'Leaders of Sustainable Biofuels', aims at supporting the development of second generation biofuels in Europe. The leaders of Chemtex, British Airways, BTG, Chemrec, Clariant, Dong Energy and UPM are joining forces to ensure the market uptake of advanced sustainable biofuels by all transport sectors.
The world is taking action to reduce greenhouse gas emissions and second generation biofuels are a key part of the solution, as they are cost-competitive and with less environmental impact than fuels made from oil or natural gas. Second-generation biofuels can reduce GHG emissions by at least 65% whereas first generation biofuels provide only modest reductions in greenhouse gases and can push up food prices.
During the meeting in Brussels the 'Leaders of Sustainable Biofuels' have established a common strategy based on several actions aimed at accelerating market penetration as well as technology deployment and use. In particular the following issues were identified as crucial to second generation biofuels:
- Acceleration of research and innovation into emerging biofuel technologies, including algae and new conversion pathways, supported by public and private R&D&D programmes.
- Development of worldwide accepted sustainability certification.
- Establishment of financing structures to facilitate the implementation of sustainable biofuel projects.
- Promotion of advanced sustainable biofuels and their benefits to increase public acceptance.

The 'Leaders of Sustainable Biofuels' also plan to address national policy makers, the European Commission and the European Parliament with a single voice, and invite the rest of the sustainable biofuels industry to follow them on the same path.
Source: www.sustainablebiofuelsleaders.com
M&G Group signs a protocol with the government on the promotion and development of second generation biofuels
On 11th January 2013 M&G Group signed a protocol with the government on the development of sustainable chemistry during the session of the Council of Ministers. This will give a strong impetus to the second and third generation biofuels development in Italy.
M&G Group is one of the leading companies in the field of second-generation biofuels. Together with its subsidiary Chemtex it developed PROESA technology for second generation bioethanol production. The world's first commercial-scale cellulosic ethanol plant is being built in Crescentino, Italy, based on PROESA technology. The project is supported by the European Commission in the framework of the BIOLYFE project.
An interview with M&G on 2G bioethanol can be founder under the following link.
NEMO project news – Presentation or project results on 3rd April 2013 at 3ICLE in Madrid, Spain
In the EU-funded NEMO (Novel High Performance Enzymes and Micro-organisms for Conversion of Lignocellulosic Biomass to Bioethanol) project, 19 partners from R&D and industry are working on the development of technological improvements for the production of ethanol from lignocellulosic feedstocks such as wheat straw, giant reed (Arundo donax), and spruce wood.
The NEMO project will come to an end in April 2013 and final project results will be presented at the 3rd International Conference on Lignocellulosic Ethanol on 3rd April 2013 in Madrid, Spain. The following presentations will be given by NEMO partners:
NEMO: Novel

high-performance enzymes and micro-organisms for conversion of lignocellulosic biomass to bioethanol, by Merja Penttilä (NEMO coordinator), VTT, Finland

Development of superior xylose-fermenting and robust industrial yeast strains for lignocellulosic bioethanol production, by Johan Thevelein, KU Leuven, Belgium
Several NEMO flyers have been elaborated to summarise Exploitable Results developed by partners of the NEMO consortium, namely on 'industrial yeast strains fermenting C6 and C5 sugars', 'specific Xylose and Arabinose transporters', 'novel hemicellulases', 'Overexpression of the S. cerevisiae gene MCR1 in cell factory(ies)', 'improved processes for the hydrolysis of pelletized biomass', and 'engineered thermostable cellobiohydrolases'.
These flyers on exploitable results are available at the NEMO website under: http://nemo.vtt.fi/publications.htm.
For more information on the NEMO project, please see http://nemo.vtt.fi/ or contact the NEMO coordinator Prof. Merja Penttilä from VTT (merja.penttila@vtt.fi), or Dr. Rainer Janssen from WIP (rainer.janssen@wip-munich.de).
SWOT Workshop on 3rd April 2013 in Madrid, Spain
In order to get an overview of advantages and disadvantages of different value chains a SWOT (Strengths, Weaknesses, Opportunities and Threats) analysis is conducted in the framework of the BIOLYFE project. The analysis investigated several feedstock and cultivation systems as well as the processing within the BIOLYE plant. First results of the SWOT analysis of the BIOLYFE lignocellulosic ethanol production chains will be presented and discussed in the workshop. In addition, the participants will have an opportunity to exchange ideas and contribute with their knowledge and experience to the discussion.
This workshop is jointly organised by WIP Renewable Energies and IFEU alongside the 3rd International Conference on Lignocellulosic Ethanol in Madrid, Spain (3-5 April 2013). The workshop will take place on 3rd April 2013.
Workshop programme
Chairpersons: Dr. Guido Reinhardt and Dr. Maria Müller-Lindenlauf (IFEU)
17:15 Welcome and introduction
Walter Kretschmer, IUS
17:25 Initial results of the SWOT analysis of the BIOLYFE lignocellulosic ethanol production chains
Dr. Maria Müller-Lindenlauf, IFEU
17:45 Discussion on the initial results
Dr. Guido Reinhardt and Dr. Maria Müller-Lindenlauf, IFEU
Outcomes of the discussion:
- Definition of new arguments and identification of success and failure factors
- Recommendations to policy makers, researchers and companies
18:45 Final discussion and closing of the workshop
Walter Kretschmer, IUS
Registration
Registration to the 3rd International Conference on Lignocellulosic Ethanol is required in order to participate in the SWOT Workshop. We kindly invite you to register under the following link.
Research at BIOLYFE partner Lund University
Lund University has a long-standing interest in lignocellulose conversion. In the BIOLYFE project, the Department of Chemical Engineering works on the development of fermentation technology in collaboration with the partners Chemtex, ENEA and Novozymes.
The initial pretreatment process, the enzymatic hydrolysis and the fermentation are all very much interdependent processes and must be addressed in a coherent manner. The demand for process intensification - to lower the capital costs in lignocellulose based ethanol production – pushes for an increase the concentration of water insoluble solids (WIS) throughout the process. This in turn requires consideration of mixing issues since the high dry-matter consistency mixtures have non-Newtonian rheological properties. Mixing issues are for instance, proper distribution of the enzymes and substrates as well as temperature and pH control. Achieving good mixing is unfortunately not free of charge, since the power requirements needed to operate impellers at high viscosities can be large and it is for this reason important to assess how mixing affects processes such as the enzymatic hydrolysis. These are questions of interest to the group at Lund University.
In a recent study on Arundo material the impact of mixing and the associated power dissipation on the extent of enzymatic hydrolysis was compared to that of the softwood material spruce. By monitoring the impeller torque and rotation speed throughout the hydrolysis, specific power inputs can be calculated and related to the conversion during the process. It was found that the two materials behaved very differently in terms of the impact of mixing power. A strong impact on the extent of hydrolysis was found for the pretreated softwood material, whereas the impact on the hydrolysis of Arundo was much lower. The two materials are also very different with respect to their rheological behavior during the hydrolysis.
There was a rapid drop in viscosity for the Arundo material, whereas the softwood viscosity drops more slowly (Fig. 1). This has direct and important implications for the process, in which a lower power input is required for the Arundo material. The underlying mechanistic explanations for the differences are currently investigated further.

Figure 1. Power input during hydrolysis of Arundo Donax and softwood at different water insoluble solids (WIS) content. The higher solids content increases the viscosity of the material, resulting in a need for higher power inputs. Interestingly, the viscosity drops much more rapidly when hydrolyzing arundo.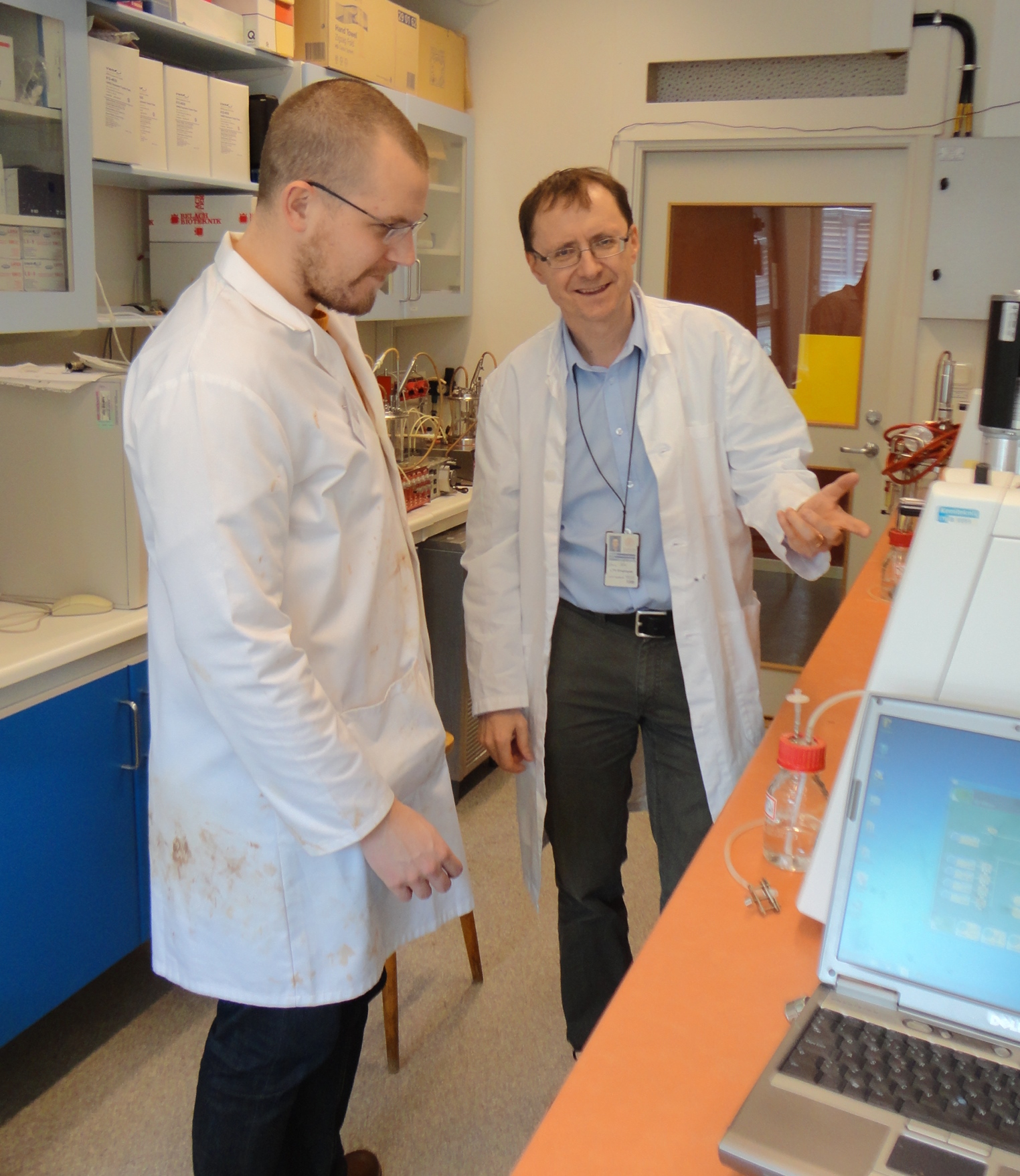 BIOLYFE participants Benny Palmqvist and Gunnar Lidén in the lab at Chemical Engineering, Lund University
Reference:
B. Palmqvist and G. Liden. Torque measurements reveal large process differences between materials during high solid enzymatic hydrolysis of pretreated lignocellulose. Biotechnology for Biofuels 2012, 5:57 doi:10.1186/1754-6834-5-57
21st European Biomass Conference and Exhibition
21st EU BC&E 2013 will take place on 3-7 June in Copenhagen, Denmark.
To find more information on the event, please visit www.conference-biomass.com

Upcoming events
3rd International Conference on Lignocellulosic Ethanol (3-5 April 2013, Madrid, Spain)
World Biofuels 2013 (23-24 May 2013, Seville, Spain)
4th Annual Lignofuels Summit (25-26 September, London, UK)
More information